How to Use 3M 6851-E Duplex Polishing Machine with Universal Dual Holder
>> Introduction
The Duplex Polishing Machine 6851-E is intended for use to polish two LAN connectors at a time, and virtually eliminates the need to exchange the holder if switching from one connector type to another.
For use with 3M Hot Melt ST, SC or FC Physical Contact (PC) connectors.
>> 1. General
The 3M duplex polishing machine 6851-E with the universal dual holder is a compact, portable machine designed to polish 3M Hot Melt Connectors for LAN applications.
The universal dual holder allows for polishing of two ST, SC or FC PC connectors at once. See figure 1 below.
1.1 Components
Polishing machine
Universal 120/230V AC to 12V DC converter
120V plug changeover
3M Polishing Film 6192B
Instruction Manual
>> 2. Installation
2.1 Plug power converter 12V DC output jack to input connector on the polishing machine. Put power converter into your outlet. The red LED will switch on (see figure 2).
Note: For 120V use, remove the attached 220V plug and replace it with the 120V version (see figure 3 below). The 120V plug will "click" into place when seated.
2.2 Put the cable holder straight and move the weight in the direction of the cable holder (see Figure 4 below).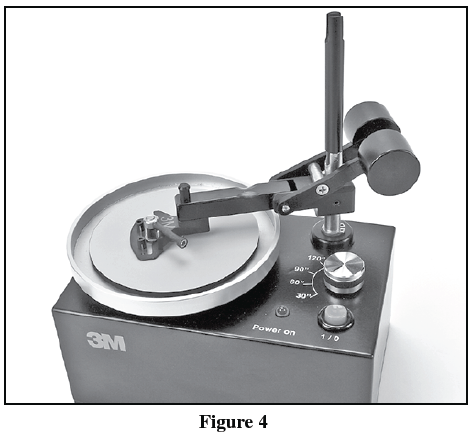 2.3 One or two drops of isopropyl alcohol on the rubber disk will help secure the polishing film to the rubber polishing disk. Place a fresh piece of 3M Polishing Film 6192B, shiny side down, onto the rubber polishing disk (see Figure 5 below).
Note: Carefully follow health and safety information on container label or Material Safety Data Sheet for isopropyl alcohol.
2.4 Assemble fiber optic connector onto fiber per standard procedure. Score and remove glass fiber extending out of hot melt adhesive. Lift the polishing arm and install connectors into the universal dual holder. Fix both connectors by moving the lever approximately 15° clockwise (see Figure 6 below).
Note: Both connectors must be placed into the universal dual holder so that the ferrules protrude evenly. Bottom ferrule/collars to ensure this. Do not mix connector types.
Note: The dual holder cannot polish single connector one-at-a-time. Apex offset drift may result in poor optical contact of fibers.
Gently lower the universal dual holder onto the abrasive film. Squirt a few drops of isopropyl alcohol between the slots of the holder to start the polishing process smoothly.
2.5 Set timer for 30 seconds and press the red I/O start button (see Figure 7 below).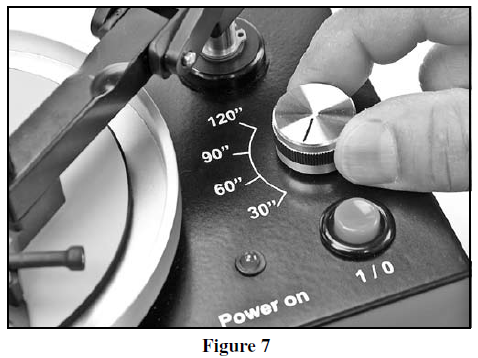 2.6 When machine stops, lift connector holder off the abrasive film and place a new fresh piece of 6192B polishing film onto the rubber polishing disk. Lower the connector holder onto the abrasive film and gently move the weight toward the connector holder (see Figure 8 below).
Start I/O button again. When machine stops, remove weight first. Remove connectors from connector holder. Clean ferrules with isopropyl alcohol, inspect, and place protective caps on the connectors.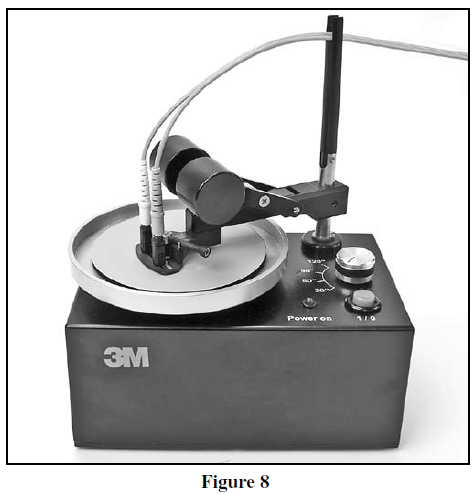 ---
Share this post
---