Fiber Optic Connector Polishing Machine Buying Guide
Automatic fiber connector polishing machines are required for high volume, high quality and consistent fiber connector polishing for fiber cable assembly houses. (fiber patch cable manufacturers). This buying guide will direct you to the perfect machine for your specific requirement.
:: The 7 Guidelines for Choosing a Fiber Connector Polishing Machine
In evaluating polishing machines, look for a machine that minimizes any variation in the polishing process. Variations lead to variations in the finish and inconsistent results. Current polishing machines are designed to eliminate variations in polishing and to achieve high-quality, consistent work.
You should do your homework before making a decision, follow this 7 steps and you won't be too far off. (Buy Fiber Optic Connector Polishing Machines here)
1. Can you adjust the pressure?
A fiber connector's finished end-face geometry is produced by the combination of the loading pressure and the hardness of the polishing pad (polishing surface). In order to optimize the connector end-face, the polishing machine must have adjustable pressure setting tool with clearly marked divisions of measurement.
Look for four-corner hold-downs. Hold-down fasteners in all four corners of the connector holder evenly distribute film pressure to minimize off-center polishing. A popular alternative – using center pressure from above – allows the possibility of wiggling or vibrating the connector holder. Such motion increases the vertex offset and leads to inconsistent finishes.
The polishing film rests on a rubber polishing pad. These pads, in conjunction with the four-corner hold-downs, distribute pressure evenly across the polishing area. Because the pads are resilient, they also help to control the radius of curvature because the ferrule is pressed into the pad during polishing. Different pads (and companion spacer) are available for different styles of connectors. It is important to use the proper pad.
2. Does the machine have a timer?
Timing is very important for the connector polishing process. Each cable assembly house may try and set their own set of polishing films and times. So a settable timer is required for a pre-defined sequence of polishing steps. Typically you will find timers with a setting range from 0 to 60 seconds.
3. Can you quickly and easily change different connector holders?
Typically the connector polishing machine should be able to handle most types of fiber connectors such as SC, ST, FC, LC, MU, E2000, SMA, etc. In order to fully utilized the machine, it must be easy and quick to change different type of connector holders. This can improve the production output and lower labor cost. Also the production line is more flexible with inter-changeable connector holders.
Precision connector holders are very critical. They should be machined to exacting tolerances so that ferrules are precisely positioned for polishing
4. Does the machine have removable polishing platens?
Polishing platens are the mechanical part that holds the polishing films and polish against the connector end-face. If the polishing platens can be easily removed, you can minimize the chances of contamination and increase polish films' life.
5. What is the polishing motion pattern? Is it optimized for consistent result while conserving polishing films?
Polishing motion is a very critical factor in determining connector's end-face quality.  Polishing motion is the motion of the surface that performs the polishing. This motion must guarantee a evenly balanced pressure across all sides. Otherwise the connector will suffer deformed end-face geometry which yields out of spec products. This can significantly affect your production yield and cost.
The perfect polishing motion is shown in the following figure. It should be an orbital circular oscillation motion.
6. Can you polish APC (8° angle) connectors?
APC 8° angled polishing is a must when very low back reflection level  is required such as < –65dB. The polishing machine should be able to handle PC polish including SPC and UPC as well as APC polishing. You shouldn't be required to purchase different machines for PC and APC polish.
There are currently a new type of PC (physical contact) polish proposed, which is called MPC (Maximum Physical Contact). MPC can meet some of APC polish spec, but in most cases APC is still demanded.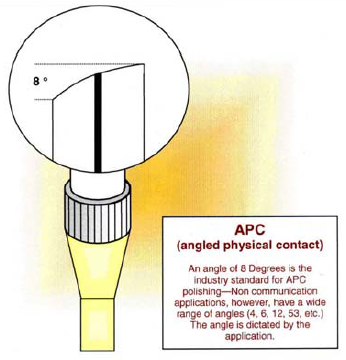 7. Does the manufacturer have polishing recipes for different connectors?
Today's fiber connectors must meet industry standard specifications. In order to consistently meet those performance requirement, the polishing machine vendor usually provides a proven polishing "recipes" for obtaining the connector specifications. The following table shows an example.
Four-Step Single Mode Connector Polishing Recipe
| | | | | |
| --- | --- | --- | --- | --- |
| Step | Description | Polishing Film Type | Timer Setting | Lubrication |
| 1 | Epoxy Removal | 15um Silicon Carbide | 10 sec | Dry |
| 2 | Beginning Polish | 5um Diamond | 30 sec | DI water |
| 3 | Intermediate Polish | 1um Diamond | 60 sec | DI water |
| 4 | Final Polish | ULTRAFILM 5 | 10 sec | DI water |
---
Share this post
---