Fiber Optic Media Converter Buyer's Guide
Buy Fiber Optic Media Converters Click Here
Fiber Optics For Sale Co. offers a complete range of media conversion for Ethernet, Fast Ethernet, Gigabit Ethernet, ATM, and asynchronous serial networks over various interface types such as multimode and single mode fiber optic, copper RJ-45 and copper serial.
All converters are fully compliant with IEEE multi-protocol standards, including 10Base-T/2/FL, 10Base-TX/FX, 1000Base-SX/LX, and ATM protocols.
The converters ship as standard with a mains plug pack, but can also be directly powered from a PC or Notebook via a PS/2 keyboard adapter or a spare USB slot.
For centralized media conversion a hot swappable, 10 slot, 19 inch rack mount chassis can be used to provide a single power source for multiple converters. The rack chassis solution provides various power options from dual redundant to single power supplies in either mains AC voltages or Telco 48V DC options.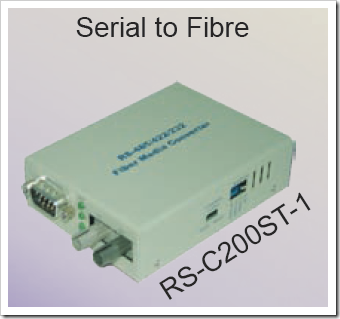 Add long distance support to serial communications. Media conversion from RS-232/422/485 serial to ST multimode or single mode fiber. Support speeds up to 115 Kbps for RS-232 and up to 500Kbps for RS-422/485.
Conversion of backbone or telecommunication networks. Multimode to single mode converters for OC-3 TM at 155Mbps and OC-12 SONET/ATM at 622Mbps.
Conversion of legacy networks. 10Base-T to fiber 10Base-FL in multimode or single mode fiber.
Conversion between various modern networking media types. Extensive fiber termination options. ST/SC/VF-45/MTRJ/LC 10/100Base-TX to Fiber Base-FX in multimode or single mode fiber, or multimode fiber to single mode fiber.
Conversion of high speed backbone networks. 1000Base-T to fiber 1000Base-SX/LX. or 1000Base-SX fiber to 1000Base-LX fiber.
Designed to accommodate slide-in converters. High density design can host up to 10 media converters. 19 inch rack mountable with full power redundancy.
Technical Specifications:
Type

Model

Media

 

Speed

 

Connector

 

Max Distance

Wavelength (nm)

Min TX Output (dBm)

Sensitivity (dBm)

 
 

From

To

From

To

From

To

 
 
 
 
Ethernet
ET-109RST
UTP
MM Fiber
10
10
RJ45
ST
2km
820
-16
-29.5
 
ET-209RST
UTP
MM Fiber
10
10
RJ45
ST
2km
820
-16
-29.5
 
ET-209RST.S
UTP
MM Fiber
10
10
RJ45
ST
10km
1310
-27
-36
 
ET-509R
UTP
RG58 A/U
10
10
RJ45
BNC
185m
N/A
N/A
N/A
Fast Ethernet
FE-C107xx
UTP
MM Fiber
10/100
100
RJ45
SC/ST
MTRJ/VF45
2km
1310
-19
-30
 
FE-C107SC.S20
UTP
SM Fiber
10/100
100
RJ45
SC
20km
1310
-15
-31
 
FE-C107SC.S40
UTP
SM Fiber
10/100
100
RJ45
SC
40km
1310
-8
-34
 
FE-C107SC.S60
UTP
SM Fiber
10/100
100
RJ45
SC
60km
1310
-5
-34
 
FE-C120xx
UTP
MM Fiber
10/100
100
RJ45
SC/ST
MTRJ/VF45
2km
1310
-19
-30
 
FE-C120SC.S20
UTP
SM Fiber
10/100
100
RJ45
SC
20km
1310
-15
-31
 
FE-C120SC.S40
UTP
SM Fiber
10/100
100
RJ45
SC
40km
1310
-8
-34
 
FE-C120SC.S60
UTP
SM Fiber
10/100
100
RJ45
SC
60km
1310
-5
-34
 
FE-C120S3.S20
UTP
Single Strand SM Fiber
10/100
1000
RJ45
Single SC
20km
Tx:1310
Rx: 1550
-15
-31
 
FE-C120S5.S20
UTP
Single Strand SM Fiber
10/100
1000
RJ45
Single SC
20km
Tx:1550
Rx: 1310
-15
-31
ATM
FE-C255SC
MM Fiber
SM Fiber
155
155
SC
SC
2km
20/40/60km
1310
1310
MM: –19
SM: –15
MM:-30
SM:-30
 
FE-C622SC
MM Fiber
SM Fiber
622
622
SC
SC
2km
15/40km
1310
1310
MM: –19.5
SM: –15
MM: –30.5
SM: -32
Gigabit Ethernet
GE-C300SC
MM Fiber
SM Fiber
1000
1000
SC
SC
2km
10km
MM: 850
SM: 1310
MM: –10
SM: –13
MM: –17
SM: –20
 
GE-C301SC
UTP
MM Fiber
1000
1000
RJ45
SC
220/550m
850
-9.5
-18
 
GE-C301SC.S10
UTP
SM Fiber
1000
1000
RJ45
SC
10km
1310
-11
-20
 
GE-C301SC.S50
UTP
SM Fiber
1000
1000
RJ45
SC
50km
1550
-6
-23
 
GE-C301S3.S20
UTP
Single Strand SM Fiber
1000
1000
RJ45
Single SC
20km
Tx: 1310
Rx: 1550
-8
-21
 
GE-C301S5.S20
UTP
Single Strand SM Fiber
1000
1000
RJ45
Single SC
20km
Tx: 1550
Rx: 1310
-8
-21
Fiber Serial
RS-C100ST-3
RS-232
MM Fiber
115Kbps
–
DB25
ST
2km
820
-16
-29.5
 
RS-C200ST-1
RS232
422/485
MM Fiber
115/500Kbps
–
DB9
ST
2km
820
-16
-29.5
 
RS-C200ST-2
RS-232
422/485
MM Fiber
115/500Kbps
–
Term
ST
2km
820
-16
-29.5
 
RS-C200ST-3
RS232
422/485
SM Fiber
115/500Kbps
–
DB9
ST
20km
1310
-12
-31
 
RS-C200ST-4
RS-232
422/485
SM Fiber
115/500Kbps
–
Term
ST
20km
1310
-12
-31
---
Share this post
---